As a SYSPRO 8 customer, you may be aware that SYSPRO provide two releases of SYSPRO 8 annually, in the Spring and Autumn.  From 2022 SYSPRO will be moving to releasing SYSPRO 8 updates once a year. Please note that the 2022 Release will now take place in February 2023 allowing SYSPRO to focus on ensuring that the 2022 Release is a significant release with new capabilities and improved product quality. The 2023 release is still anticipated to be available in July 2023.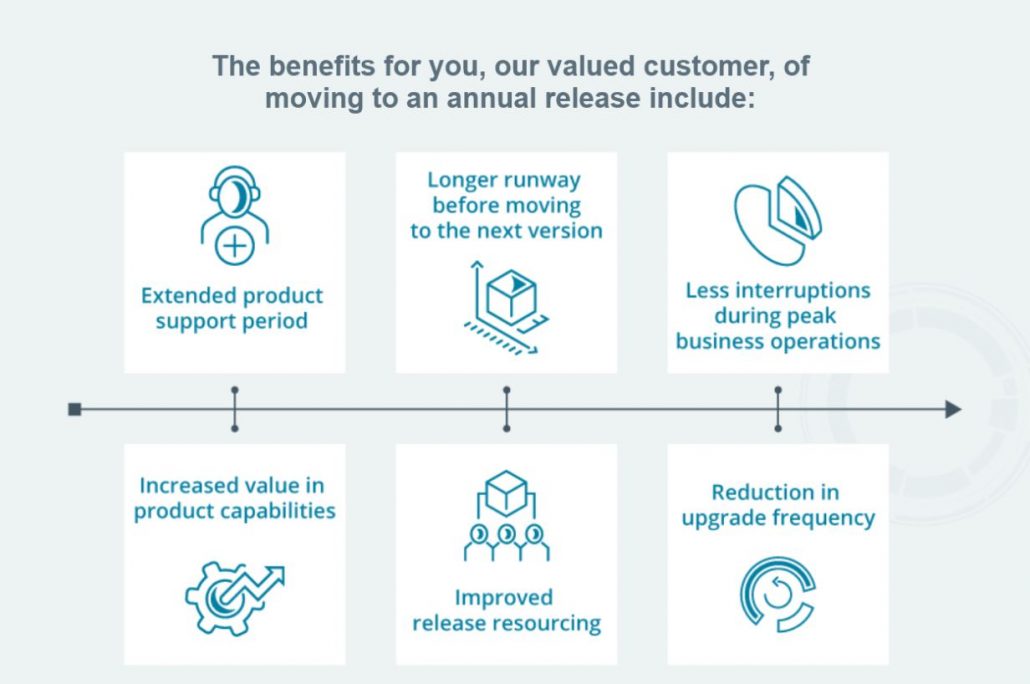 SYSPRO 8 2021 R2, the Autumn Release, is now available and includes a number of new features. This builds on the previous releases of 2021 R1 and 2020 R2 (which is a significant release that will typically take 3-4 hours to apply). Depending on your business needs, you may to choose to update to either SYSPRO 8 2021 R1 or SYSPRO 8 2021 R2
In order to ensure that we can support you as required, we recommend that you carefully review the features available and plan accordingly to ensure minimum impact to your business in-line with other projects you may have underway and business as usual activities. (Note: the timescale to install will be longer than previous releases if upgrading from a version prior to 2020 R2)
The below checklist details the pre- and post-installation considerations necessary depending on the type of reporting you are using, and the version of Crystal selected:
| | Client-Side Reporting | Client-Side Reporting | Server-Side Reporting |
| --- | --- | --- | --- |
| | CR2013 | CR2016 | CR2016 |
| Pre-Installation Checks | | | |
| Crystal Version Compatibility | yes (note*) | yes (note**) | yes (note***) |
| Time to apply upgrade | 1 hour | +/- 4 hours | +/- 4 hours |
| Amend Stock Code and Description variables in SO Document Templates (How To) | n/a | yes | yes |
| Post-Installation Changes | | | |
| Re-Apply SYSPRO Licence to populate new AdmRtpProduct Tables for e.net products | yes | yes | yes |
| Login to the client as each Automation login to accept client components | yes | yes | yes |
| If the release being applied is pre-2020 R2, ensure all document templates have migrated by running SRSPRB1 | yes | yes | yes |
| Automail Configuration Changes (How to) | n/a | n/a | yes |
| Run a repair on K3 Web Reports | n/a | yes | yes |
| Check other 3rd party (non K3 products if they utilise Crystal | n/a | yes | yes |
Note * The SysproReportingHostService must not be present on the application server.
Note ** CR2013 and 2016 cannot coexist, CR2013 must be uninstalled and CR2016 on each client pc.
Note *** CR2016 is mandatory for Server-Side printing "
Having considered all of the above information, if you would like to proceed with the installation, we would recommend you first complete the below questionnaire so that we can assist your business to review any considerations relevant to your site. Once your request has been received, we will review and be in touch for next steps.
Please note ALL fields are mandatory