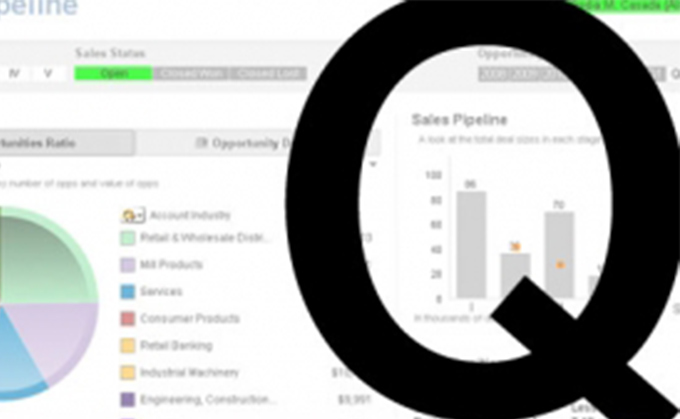 Reporting is a valuable exercise for any business. It tells you how well your software is performing, indicates business processes that need changing and allows you to drill down huge amounts of data into simple, manageable chunks. Without it, how can operational staff retrieve information required to carry out their duties? How can managers view, analyse and report on business operations to gain an unparalleled understanding of the company's structure, activities and performance? How can you enjoy real time control over your complete enterprise?
Our analytics and business intelligence (BI) product is called QlikView. It combines reporting, BI and web query into one single interface, making it easy to generate reports from SYSPRO. It's easy to implement and intuitive to use. Perhaps it's most effective benefit is the fact it can combine data from various different sources, multiple databases, text files and Excel documents.
But how does it help you and why should you be integrating it into your SYSPRO solution? You may well ask.
QlikView really comes into its own when it comes to accessing a clear view of your business outside of SYSPRO, for example financial budget information. It also allows you to capitalise on legacy systems by adopting the most updated tools and technologies. It is well protected and assures strict data security, quality and governance of every but of data that runs through it. Without being able to generate reports, analyse data and identify areas for improvement, how can you enhance your business processes and streamline your supply chain?
With QlikView, decisions don"t have to be made in isolation, they're collaborative.  They're based on social exchanges driven by real-time debate, dialog and shared insight. QlikView's social Business Discovery approach puts the social and collaborative experience front and centre.
QlikView apps and dashboards combine data from multiple sources to deliver information and analytics designed to inform your business decisions, from typical day-to-day discussions right up to the most urgent and critical matters. In a year in which analysts everywhere are predicting the year of social ERP, QlikView has a major role to play. It can be used to segment data into categorised needs, make information more accessible to everyone within an organisation and document decision factors as they happen, for total transparency.
Large organisations worldwide, across every industry, rely on this Business Intelligence to power decision making – read how Innovative Technology uses QlikView.  QlikView essentially puts you in charge of creating and changing your own apps in minutes and with 2014 hotly tipped to be the year of social ERP, QlikView is set to be leading the industry. That's why 'Q' is for QlikView.
https://www.k3syspro.com/wp-content/uploads/2014/03/Q-is-for-QlikView-320x202.jpg
419
680
Steve Gore
https://www.k3syspro.com/wp-content/uploads/2017/04/K3Syspro_Logo-CMYK-cropped-thick.png
Steve Gore
2014-03-07 16:23:28
2018-01-30 14:31:41
Q is for QlikView